College of Pharmacy Research Day
Research Day is an annual College-wide event that brings together our trainees, alumni, faculty members, and staff as well as industry and academic colleagues from the Chicago area.
The 13th Annual Research day was a great success, with 80 posters presented, a fantastic keynote seminar by Dr. Nandita Khera, and great participation from our alumni and external colleagues from industry, including 50 poster judges. We would like to thank our corporate sponsors (Genentech), along with our University supporters (OTM Innovate@UIC, UI Cancer Center, CCTS, Pharmaceutical Sciences GSA, ISPOR, and ISPE) and other outside donors (Swanson Family Research Day Fund) that provided funds for the event and poster awards.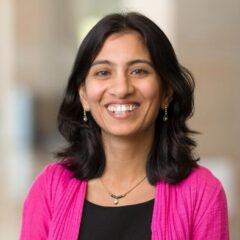 Keynote Presentation: "Financial Toxicity of Cancer Treatment: A Growing Threat to Access and Quality of Cancer Care"

Consultant, Division of Hematology/Oncology
Associate Professor of Medicine, Mayo Clinic Alix School of Medicine
Medical Director, Ambulatory Infusion Center
Associate Chair for Digital Transformation and Practice Integration

Department of Medicine, Mayo Clinic, Phoenix, AZ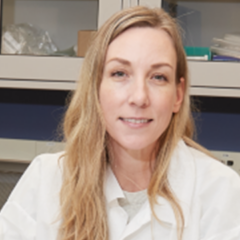 Hans W. Vahlteich Research Award: "Antipsychotic Associated Acquisition of Antimicrobial Resistance Mechanisms in Gut Microbiota"

Stephanie Flowers, PharmD, PhD

Assistant Professor, Department of Pharmacy Practice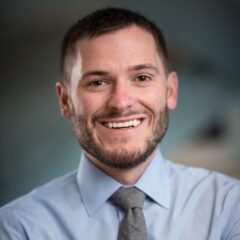 Research Impact Award: 2011 UIC PGY2 Cardiology Residency, 2013 UIC Pharmacogenomics Fellow

Associate Professor & Vice Chair of Research, Population Health Sciences, University of Utah
2021 Graduate Student Awards and External Trainee Awards Heading link
This year, we have given out over $36,000 in graduate student awards & scholarships, travel awards, and recruiting scholarships.  To see who received which award and for the list of other significant external awards received by our graduate students and postdocs, click on the link below.
2022 Poster Award Winners
| Category | Place | Authors | Title | Winner |
| --- | --- | --- | --- | --- |
| Biology: Molecular & Cell Biology; Mechanism of Action | Genentech Award for Excellence in Research 1st Place | Manead Khin, Manuel Rangel-Grimaldo, Huzefa A. Raja, Ziwei Zhang, Julia Ekiert, Nicholas H. Oberlies, Yu Gao, Joanna E. Burdette | Wheldone, a Fungal Secondary Metabolite, Plays a Role in Microtubule Regulation of Ovarian Cancer | |
| Biology: Molecular & Cell Biology; Mechanism of Action | Swanson Family Day Research Fund Award for Excellence in Research 2nd Place | Cory Matsumoto, Xinhao Shao, Marko Bogosavljevic, Liang Chen, Yu Gao | Automated Container-less Cell Processing Method for Single-cell Proteomics | |
| Biology: Molecular & Cell Biology; Mechanism of Action | UIC College of Pharmacy Award for Excellence in Research 3rd Place | Monica Haughan, Tova Bergsten, Hannah Lusk, Sarah Selvey, Aloysius Klingelhutz, Laura M. Sanchez, Joanna E. Burdette | Probing the Molecular Crosstalk Between Ovarian Cancer and Omentum | |
| Chemistry: Discovery, Modeling, Design & Evaluation of Novel Drugs; Detection & Delivery Systems | Genentech Award for Excellence in Research 1st Place | Dimosthenis A. Koinas,Bo Wu, Xiaojuan Zhou, Anthony Y. Pajak, Keith W. Miller, Karol S. Bruzik | Design and Development of GABA-ergic Null Allosteric Ligands and Their Use as Reversal Agents to General Anesthesia | |
| Chemistry: Discovery, Modeling, Design & Evaluation of Novel Drugs; Detection & Delivery Systems | Swanson Family Day Research Fund for Excellence in Research 2nd Place | Ziwei Zhang, Kevin Drew, Yu Gao | Kinome-wide Small Molecule Binding Profiling by Size-exclusion Chromatography | |
| Chemistry: Discovery, Modeling, Design & Evaluation of Novel Drugs; Detection & Delivery Systems | UIC College of Pharmacy Award for Excellence in Research 3rd Place | Angeliki Andrianopoulous, Richard A. Gemeinhart | Engineering of Glutathione-conjugated Hydrogels for Protein Delivery | |
| Clinical, Social, and Applied Sciences | Genentech Award for Excellence in Research 1st Place | Mezhgan Aslamy, Kent Hanson, A. Simon Pickard, Mary H. Smart, Hadeel Fouad, Seva Tikhomirov, Yasmeen Hassoun, Emir Carkovic , Maggie Brabec, Todd A. Lee | Barriers to Naloxone Dispensing in Community Pharmacies: Comparing Results from a 2021 and 2022 Educational Outreach Initiative | |
| Clinical, Social, and Applied Sciences | Swanson Family Day Research Fund Award for Excellence in Research 2nd Place | Dustin Woo, Eunice Kim, Christine Pham, Nancy L. Shapiro, Melissa Badowski, Robert J Didomenico | Impact of Clinical Research Design Elective Course on Students' Confidence in Research Skills | |
| Clinical, Social, and Applied Sciences | UIC College of Pharmacy Award for Excellence in Research 3rd Place | Nhan Dang, Dina Khalil, Jiehuan Sun, Aamina Naveed, Fatimata Soumare, Ajna Hamidovic | Waist Circumference and Its Association with Premenstrual Food Craving: The PHASE Longitudinal Study | |
| Innovate@UIC Innovation Award | 1st Place (tie) | Philana Phan, Zongmin Zhao | Stealth Coated Undead Enucleated Cells for Anti-tumor Immunity | |
| Innovate@UIC Innovation Award | 1st Place (tie) | Chih-Jia Chao, Zongmin Zhao | In situ Tumor Antigen Sourcing and Delivery by Migratory Dendritic Cells for Cancer Immunotherapy | |
| Innovate@UIC Innovation Award | 1st Place (tie) | Hanan Algarni,Zongmin Zhao | A Myeloid-derived Suppressor Cell (MDSC)-based Approach for Immune Targeting in Experimental Autoimmune Encephalomyelitis | |
| UI Cancer Center Cancer Science Prize | 1st Place | Marianne B. Palczewski, Hannah P. Kuschman, Sushma Sappa, Scott Gladstein, Kabirul Islam, Eric Kool, Vadim Backman, Douglas D. Thomas | Nitric Oxide Reprograms DNA Methylation in Triple-Negative Breast Cancer by Inhibiting DNA Demethylases TET and ALKBH2 | |
| UI Cancer Center Cancer Science Prize | 2nd Place | Hannah Petraitis Kuschman, Marianne B. Palczewski, Douglas D. Thomas | Nitric Oxide is an 'Epitranscriptomic' Regulator of m6A mRNA Methylation in TNBC | |
| CCTS Multidisciplinary Team Science Award | 1st Place | Didi Zha, Jared Sipes, Sagar Rayamajhi, Angela Russo, Harsh Pathak, Kailiang Li, Andrew K. Godwin, Joanna E. Burdette | Proteomic Profiling of Fallopian Tube-derived Extracellular Vesicles Using a Microfluidic Tissue-on-Chip System | |
| Pharmaceutical Sciences Graduate Student Association Award | 1st Place | Kyle Kremiller, Gauri Kulkarni, Chris Peters, Andrew P. Riley | Enhancing Drug Discovery at the α9α10 Nicotinic Acetylcholine Receptor | |
| Pharmaceutical Sciences Graduate Student Association Award | 2nd Place | Rocío Rivera Rodríguez, Jeremy J. Johnson | Diterpenes from Salvia rosmarinus Modulate the Nrf2 and AhR Receptors | |
| ISPOR Student Chapter Choice Award | 1st Place | Maja Kuharic, Victoria Kulbokas, Kent Hanson, Jonathan L. Nazari, Kanya Shah, Ai Nguyen, Tara Hensle, A. Simon Pickard | OFF Episode quality of Life Impact scAle (OFFELIA): Overview of the Development and Validation of a Measure of Quality of Life and Functional Impact of OFF Episodes in Parkinson's disease | |
| ISPE Student Chapter Choice Award | 1st Place | Brendan Clark, Todd A. Lee | Risk of Clinical Relapse of Multiple Sclerosis After Vaccination Against SARS-Cov-2: A Self-Controlled Case Series | |
Setting aside the challenges of things being virtual…I am, again, overall impressed with the research work thoughtfully conceived and then carried out there at UIC COP. The students, both grad and PharmD, are receiving a measurably better education now than in the past, because of your efforts.  You should all go home at night, virtually!, knowing that you are training and educating future leaders in pharmacy and the health care professions.

2018 UIC College of Pharmacy Alumnus of the Year, commenting on the success of the Virtual Program

|